At Edoo 413, we strive to bring you scientifically proven, professional and practical Feng Shui solutions that have been passed down for more than 6,000 years ago.
Yijing (also known as I-Ching, meaning The Book of Changes) is widely regarded as a treasure of Chinese culture.  Yijing is also known as "Zhou Yi".  It is the root of Chinese culture.
The concept of harmony in Yijing has made it an extremely precious treasure for the thinking of the Oriental people. Harmony is the spirit of humanity, it is the spirit of life. "Harmony" is the long-standing humanistic spirit of Chinese culture.  Zhouyi advocates harmony in the natural world. Harmony is not just harmony among living things, it is primarily the harmony between man and nature.
Yijing is the root of Chinese culture and an important symbol of China's entry into a civilized society more than 5,000 years ago. It is not only the earliest written classics, but also has an important influence on China's Taoism, Confucianism, Chinese medicine, writing, mathematics, philosophy, and folk culture.
The culture of Yijing is broad and profound, and it is all-encompassing. It can be said to be an encyclopedia of life. In ancient times, it was only studied and used by royal nobles. Today we can access and apply this wisdom easily in our daily lives, be it in business, family marriage, they are all closely related to Yijing.
This ancient Yijing learning can be passed down to this day because of the dedication and hard work of generations of outstanding inheritors who have shouldered the responsibility of cultural rejuvenation.
In every step that we take, we will continue to give our best to fulfill our mission and vision. 
Our Mission
To spread Chinese culture.
To improve the lives of people.
To promote World Harmony.
To upgrade Spiritual Well-Being in everyone.
Our Vision
Bring excellent Chinese culture to the world. Let the world understand such culture to create a harmonious, abundant, blissful and better society.
Over 10+ years, Edoo413 has remained dedicated in the research and development of Digital Energetics System, bringing you traditional solutions that been withstood countless of test through the years. We strive to introduce to the world excellent Culture and how it can help create a harmonious, abundant, blissful and better society.
One that encompasses the world regardless of race, religions, age, gender, social statusand individual needs.
A new trending and Innovative Service Industry
A list of Services that Edoo covers:
| Number Analysis | Auspicious Marriage Date | Choose of Birth Date |
| --- | --- | --- |
| Fortune Forecast | Business Opening Date | Negate Tai Shui |
| Partnership Forecast | Crossover Spirit | Bazi Marriage |
| Baby Naming | IC Number Negation | Ziwei Fortune Telling |
| Company Naming | Career Selection Consulting | Bazi Fortune Telling |
| Auspicious Car Number Plate | Auspicious Accessories Consulting | Prosperous Fortune Symbol |
| Office Feng Shui | Home Feng Shui | Various Forecast​ |
What if, you can redefine your life and refine it to the best

The moment you come into contact with Edoo413, you will have the opportunity to choose,control and improve your life.
Contact Edoo413 now, you will have the opportunity to choose,control and improve your life.
Ms Li Chengwei
CEO Strategic Alliance Pte Ltd
Edoo 413 Pte Ltd Director
Yinyang Digital Energetics Founder
2017/2018 Asia Top Business Brand Award
2020 China's Top Persons in Trade Commemorative Stamp
Zhou Yi Experts Honorary Recognition
Fetured in 2020 "Rising Power" book of 100 Outstanding Overseas Chinese that influences China's Development.
Learn from Master Hu Yiming, Taiwan. (Master Hu appeared on China's CCTV 7 times)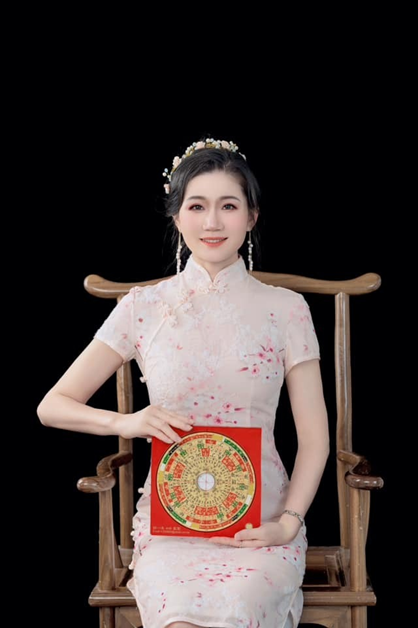 Our Team of Experienced Teachers
Click the picture to find out about out more about the specific teacher!
About Us
Since Fuxi's invention of Xiantian gossip, King Wen of Zhou adapted and invented Houtian gossip, Confucius added six lines and attached lines, and collectively created the Book of Changes, which has a history of 7,000 years. As the head of the group of classics, the Book of Changes is as famous as the "Bible", "Buddhist Scriptures" and "Vedas". It can be called the oldest classic of Chinese culture. It has been used by successive emperors to guide operations, management, and decision-making, and has been handed down to this day. Yidu Academy of Chinese Studies is committed to spreading excellent Chinese culture such as the Book of Changes and Feng Shui to the world, so that the world can understand Chinese culture and let Chinese culture influence the world. Work together to create a harmonious, prosperous, happy and fulfilling society.

BAZI Consultation
A person is born with a Bazi, and the Bazi is the innate information of a person's birth. According to statistics, the Bazi has extremely high accuracy. Learn from Mr Hu Yi Ming, who has interviewed by CCTV interviews 7 times, the No.1 Bazi Master in Taiwan, so Master Li Chengwei's Bazi reading has 95% accuracy.
Lucky Number Services
Combining human Bazi and Yinyang digital energetics, Master Li ChengWei tailors lucky mobile phone numbers, license plate numbers, house numbers, solution IC lucky numbers, company UEN registration numbers, bank accounts, lucky mailboxes, WeChat IDs, SingPass numbers, etc. The lucky number combined with the horoscope is several times more accurate than the combination of the IC number on the market to change the mobile phone number. Because the Bazi is innate, the Bazi itself has 95% accuracy. However, the frequency of IC use is low, and the accuracy naturally cannot be compared with matching numbers by combining Bazi.

Feng Shui Serivce
Yin-Yang Fengshui combines form method and qi regulation, and integrates the strengths of Xuankong Flying Star, Sanyuan Fengshui, Eight Houses Fengshui, Auxiliary Star Water Method, Obscuring Eyes Method, One Eye Break, Crossing Yin and Yang, Jingyin and Jingyang, and Xunlong acupuncture points. Integrating with Feng Shui, it can measure Feng Shui for you in an all-round way. Compared with many single methods on the market, the accuracy of Feng Shui is several times higher. Therefore, Master Li Chengwei was rated as the world's gold medal Fengshui master, and was invited to be interviewed by CCTV in 2022.
SUBSCRIBE NOW TO BE PART OF OUR AUSPICIOUS LIST
By submitting my personal information, I agree that Edoo413 may use it to update me on
news, promotion and updates, in accordance with the Personal Data Protection Act.
Singapore:
149 Rocher Road, #02-35 Fu Lu Shou Complex,Singapore 188425
Malaysia:
5 Jalan Putri Jaya 10, Taman Putri Jaya Batu 9 Cheras,43200 SL (Cartoon House)
Taiwan:
台中市豐原豐北街385号 台湾
Singapore:
+65 97494113
+65 97494413
Malaysia:
+60 13 949 4113